If you're looking for the best private dining rooms in London, read on for expert tips on where to book for group dinners or special occasions.
The Best Private Dining Rooms in London
Hawksmoor Guildhall
Situated in The City, Hawksmoor Guildhall caters for a different range of events; from corporate breakfasts and lunches, to private parties and dinners.
The elegant private dining room sits up to 24 guests which includes discrete audio-visual equipment for presentations, including a 50'' flat screen.
Decimo at The Standard

For a party with a view, Decimo, situated on the 10th floor of The Standard hotel, is uniquely positioned with floor-to-ceiling windows for a dramatic London-skyline backdrop.
The stylish PDR is semi-private, so guests can feed off the lively vibe and DJ's in Decimo, and is open until 2am on Fri – Sat, perfect for those late night parties.
Guests can enjoy a menu of executive chef Peter Sanchez-Iglesias' Mexican and Spanish-influenced dishes, including gambas rojas, Mangalitza pork and a show stopping tortilla topped with caviar.
Bookable Wednesday-Saturday evenings. Capacity: 38
Luca
Located in Clerkenwell, Luca has two private dining rooms perfect for a festive Italian escape.
The Garden Room, a beautiful indoor space in the style of an Italian garden, and The Pasta Room (below), designed to look and feel like a traditional Italian home kitchen.
The Terrace, a covered, secluded and foliage-filled spot surrounded by olive trees and jasmine, is also available and ideal for a cosy, wintery meal with large groups, warmed by the open fire.
Guests can enjoy the Chef's Menu, the Feasting Menu or a Truffle & Barolo Tasting Menu, and there's the option to add a canape reception at The Terrace too.
Prices from £85 pp. Capacity: 8 guests (Garden Room), 10 guests (Pasta Room), 18 guests (The Terrace).
The Lotos Room at The Beaumont
For a formal sit-down meal, The Lotos Room, of the beautifully refurbished Beaumont Hotel, is the perfect place for any occasion.
The room, panelled in cherry wood with vintage lighting and bespoke art deco carpet, holds an additional ante-room for a sophisticated drinks reception.
The Beaumont has a selection of private dining menus created by Chef Ben Boeynaems, featuring signature dishes including Steak tartare and Fillet of Beef Wellington.
There is also a canape menu with transatlantic accents, including Devilled quails eggs and the signature Corndog with Stout mustard.
Capacity: 28 guests
The Laundry
The Laundry – Brixton's neighbourhood bistro and wine shop – is home to an idyllic private dining room, ideal for intimate events with close friends and family.
Prices from £55pp. Capacity: 16 guests (PDR), 30 (downstairs room).
Bocca di Lupo
Italian restaurant Bocca di Lupo has a private room which accommodates up to 32 people seated and 45 standing.
The private dining room has its own chef in a dedicated, adjacent kitchen, and guests can design their own individual menus or choose from a selection of feasting menus.
Hide
Michelin-starred Hide on Piccadilly has four private dining rooms giving options to suit any occasion.
The biggest room, Hide & Seek, located Above on the first floor, is a bright, contemporary space with a seating capacity of 20 covers.
As well hand-cut plaster artworks created by artist, Rachel Dein, adorning the walls of this space, the room also benefits from a private entrance.
In addition to the main PDR, there are three smaller rooms located Below: The Reading Room (6 covers), The Broken Room (4 covers) and The Shadow Room (6 covers, pictured below), ideal for more intimate gatherings, celebrations or private meetings.
Each room has been designed by a different artist to embody a different, whimsical theme.
Kutir
For an Indian fine dining dinner, Kutir has two first-floor private dining rooms ideal for a festive celebration; The Sariska and The Ranthambore room, which can be freely decorated by guests.
Located in an elegant Chelsea townhouse with beautiful interiors inspired by Indian wildlife, guests can enjoy one of Chef Rohit Ghai's signature Expedition menus, seasonal Game menu or an especially-created bespoke menu.
Kutir's sophisticated townhouse rooftop can also be hired for pre- or post- dinner Christmas drinks and canapés.
Prices from £100pp. Capacity: 16 guests (Sariska), 9 guests (Ranthambore). Or option to open up the two rooms to seat 30 guests.
The Ninth
Located on the first floor of the restaurant overlooking Charlotte street, the semi-private dining area at The Ninth can accomodate up to 22 guests.
With beautiful wine cabinet displays, and flexible table and seating arrangements that can be adapted to suit your exact needs, this multi-functional space is perfect for any occasion.
Prices from £1,500 – £10,000. Capacity: 22 guests (semi-private PDR), 40 guests (First Floor).
Story Cellar
Story Cellar, from two Michelin Starred chef Tom Sellers, offers Parisian-style rotisserie chicken and other classic dishes.
Located in the wine cellar, the private dining room seats up to 18 guests and offers a variety of small plates, shared mains from the grill, plus half a bottle of wine per head included in the room hire fee.
Ekstedt At The Yard
Ekstedt At The Yard, from Michelin starred chef Niklas Ekstedt, brings open-fire Nordic cuisine to the Great Scotland Yard Hotel.
Their dimly-lit room of rich dark woods offers private dining for 15+ guests for the Chef's Choice four-course tasting menu, featuring charred and smoked dishes such as Hay Smoked Scallop, Cauliflower Fungus with Pickled Walnuts, Wood Oven Baked Alaska, and more.
Jikoni's Chef's Table
Tucked away beneath the restaurant is Jikoni's intimate chef's table, where diners can experience Jikoni's signature style of 'cooking across borders'.
The dishes are influenced by the cultures and flavours of the far East, Asia, East Africa and the Middle East.
Kitchen W8
The beautiful private room at Kitchen W8 is located at the front of the restaurant, which is filled with sunlight during the day.
The room can accommodate up to 14 guests and there is no minimum spend or room hire fee.
Head chef Mark Kempson is keen to collaborate with guests to plan their event by tailoring menus, which start from £55 for dinner.
Click here for further information on Kitchen W8.
Brat at Climpson's Arch
Tomos Parry's Brat at Climpson's Arch caters for up to 80 guests for a private sit-down meal.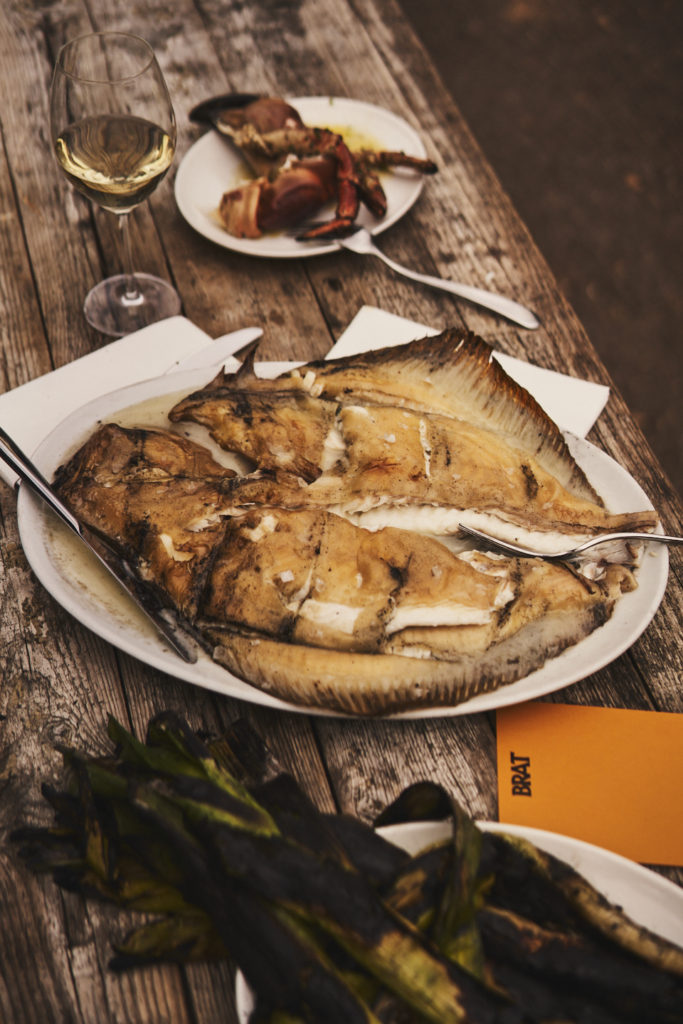 The menu varies according to seasons and available produce, and dishes are served on sharing platters for guests to help themselves. The turbot is a classic and a must-order.
Room hire fee of £2,000, a minimum food and drinks spend of £4,500, plus 12.5% service.
The Chefs' Room at Gauthier Soho
Gauthier Soho offers cutting-edge French cuisine in a gorgeous townhouse setting in Soho.
With a range of private dining rooms (including The Games Room mentioned below) The Chefs' Room is the smallest and most private dining room at Gauthier Soho and is also used as one of the restaurant's wine cellars.
Dimly-lit, opulent but cosy, it strikes just the right note for a romantic dinner or an intimate gathering for up to 4 guests.
The Adega at Lisboeta
The Adega, meaning 'wine cellar', is the private dining room on the lower ground floor of Lisboeta, the latest restaurant from Nuno Mendes.
Guests will be served a Portuguese sharing-style menu including Plumas Gelhadas (grilled acorn-fed black pork from Alentejo with a tomato salad) and Pão de Ló, a freshly baked olive oil cake.
The private room can accommodate up to 10.
Maison François
The St James's brasserie and wine bar, Maison Francois, pays homage to the grand brasseries of Paris, Lyon and Alsace.
The wine cellar is a private glass fronted wine room that hosts up to eighteen people. It is a flexible space, perfect for private dining, meetings and wine tastings.
It has a curtain that can be closed for more privacy or it can be left open to enjoy the energy and ambience of Frank's – Maison François' wine bar.
Upstairs at The George
Located on Great Portland Street in Fitzrovia, The George is a collaboration between JKS and Dominic Jacobs.
The new restaurant offers a menu curated by James Knappett alongside a dedicated English Sparkling Wine bar.
The private dining room at The George on Great Portland Street seats up to 20 guests in a beautiful room with two Victorian fireplaces.
A large stained glass window remains the focal point that anchors the long dining table, adorned by large candelabras.
China Tang at The Dorchester
High-end Chinese restaurant China Tang has three flexible Private Rooms, which can be used individually or as a single space.
The theme for the restaurant is Shanghai decadence, combining gorgeous antiques with clever modern touches, such as integrated music systems and large plasma screens, tucked away behind ornate sliding doors.
The largest of the rooms at China Tang is Ping, which seats a maximum of 18 guests around a single large table with a giant 'lazy Suzan' in the middle. Ping leads through to Pang and Pong, which seat between 16 and 18.
When used together, the three combined rooms can seat up to 60.
Mei Ume
The Mei Ume private dining room can seat up to 13 guests around a large central table, perfect for group dinners.
Separated from the main restaurant by bamboo screen panels, the dining room provides privacy whilst also retaining the atmosphere of the restaurant.
KOL
KOL's private dining provides an intimate setting for up to 20 seated guests.
The Chef's Table is inspired by a traditional Oaxacan home, overlooking its own private kitchen, where KOL offers a seven-course menu (180pp).
The Chef's Table sits adjacent to the KOL Mezcaleria, the agave bar, with double doors connecting the two spaces. Click here for further details.

MiMi Mei Fair
MiMi Mei Fair is an opulent Chinese restaurant situated in a Georgian townhouse in Mayfair.
Apt for intimate celebrations, MiMi Mei Fair's private dining room, the Peacock Room, features hand painted silk chinoiserie wallpaper with the room's signature peacock, which watches over a table for eight in front of the room's original open fireplace
Pachamama, Marylebone
Pachamama opened in Marylebone towards the end of 2014 and instantly made its mark as one of the best Peruvian restaurants in London. Pachamama's dishes has its influences in Peruvian cuisine but using seasonal British produce to give the menu a twist.
The space sits 120 covers spread across 2 main dining areas a 12-seater cocktail bar and also offers two semi-private dining rooms for up to 12 guests and a cocktail lounge for 8 guests.
Quaglino's
Quaglino's has two private dining rooms that can be hired independently or together.
The private dining rooms have art deco touches that allude to the bygone era when Quaglino's was established.
The Prince of Wales Room is set on the mezzanine level. It has a glass wall offering overlooking the main restaurant below with a view of the grand stage. The room accommodates 38 people seated and 60 people for a standing reception.
The Giovanni Room is more secluded, offering more privacy, accommodating 14 people seated.
The Garden Room at Chiltern Firehouse
Chiltern Firehouse has opened The Garden Room seating up to 12 guests. Overlooking the Courtyard, the room offers a beautiful, cosy space with private access to the hotel's garden.
The menus, created by Executive Chef Nuno Mendes, have been designed for sharing and feature a selection of Firehouse classics (Crab-Stuffed Donuts, Bacon Cornbread and Steak Tartare included) amongst other seasonally changing dishes.
The Garden Room is available to be booked throughout the week for breakfast, lunch and dinner.
The Council Chamber – Town Hall Hotel

Formerly the Council Chamber of the Town Hall in Bethnal Green, The Council Chamber at The Townhall Hotel retains the original art deco features with green leather raised seating and fold down wooden desks.
The space can be used for private dinners for up to 20 people, with food prepared by the Corner Room restaurant.
Hoppers Marylebone
Hoppers Marylebone is located on Wigmore Street, easily accessible from Bond Street, Oxford Circus & Marble Arch.
The four semi-private dining vaults at Hoppers Marylebone can seat up to 6-8 guests in each.

The lower ground floor of the restaurant can be hired exclusively for up to 65 guests, while the entire restaurant can hired exclusively for 90 guests.
The Games Room at The Zetter Townhouse

The Games Room at the Zetter Townhouse hotel in Clerkenwell can seat up to 30 guests for private dining and 50 for standing receptions.
The Games Room also has a small terrace and, when not in use as a private dining room, a table tennis table.
The décor of the Games Room matches the hotel's eclectic style with trinkets and artefacts from around the world.
The Zetter Townhouse features in our guide to the best boutique hotels in London.
Aulis
Aulis is an eight-seater chef's table and development kitchen in Soho from Michelin-starred chef Simon Rogan and his team.
Aulis is uses as a creative hub for Rogan's Michelin starred restaurant Roganic, where guests can try dishes befire they are added to the menu at Roganic.
With a menu strongly linked to the seasons, Aulis offers a continuously changing tasting menu.
Alain Ducasse at The Dorchester

Alain Ducasse at The Dorchester, which holds 3 Michelin Stars, offers a selection of private dining options, including the intimate Salon Prive and the Salon Park Lane, which has glorious views over Hyde Park and can accommodate up to 28.
Our favourite room is the Table Lumiere, which is ideal for up to six guests.
Cocooned by a luminescent oval curtain, it is surrounded by 4,500 shimmering fibre optics that drop dramatically from the ceiling, making it one of the best private dining rooms in London.
While diners are able to hear the buzz of the restaurant, they are partly screened from view, giving a sense of intimacy without any loss of atmosphere.
Balthazar London, Covent Garden
One of the most talked about restaurant openings of 2013, Keith McNally's London outpost of Balthazar opened in Covent Garden.
They have also opened a private dining room on the first floor above the restaurant seating up to 60 guests or a standing reception for 75.
With antique timber floorboards, vintage wall sconces and a feature wall lined with wine bottles on either side of the room, the stylish private dining room also features a separate bar and lounge area.
Menus start at £45 for 3 courses with tea, coffee and petits fours.
For further inspiration, read our guide to the best restaurants in Covent Garden.
Gymkhana
Gymkhana, a new Indian restaurant on Albemarle Street in Mayfair, has two private dining vaults, both located on the lower ground floor.
The first vault seats up to 9 guests and the second seats up to 14 guests, with no minimum spend.
Gymkhana offers a choice of two menus, a tasting menu and a game menu, both with wine pairings available.
Hutong in the Shard
Focusing on Northern Chinese cuisine, the menu at Hutong in The Shard inspired by the culinary styles of Peking, Shandong and Sichuan provinces.
While the food is great, the experience is made all the more impressive with such stunning views of London all around you.
The Shanghai private space can hold 16 while Beijing will seat 24 guests, or for larger parties, you can take over the whole restaurant with 100 guests for dinner or 340 for s stand up reception.
The Balcony at Galvin at Windows
Situated on the 28th floor of the London Hilton on Park Lane, 'The Balcony' at Galvin at Windows is surrounded by floor to ceiling windows offering peerless views across Hyde Park, Buckingham Palace and London beyond.
Guests have the option to tailor their own menu based on the restaurant's modern French inspired a la carte dining option.
The Balcony can seat up to eighteen guests on one private table.
Bob Bob Ricard
The new private dining room at Bob Bob Ricard, made to the original Davis Collins design, offers a gorgeous private setting, complete with a working fireplace.
The design takes inspiration from the dining carriages of the Orient Express and the Royal Train.
The full menu is available without the need to pre-order. The private room can accommodate 16 guests.
The Chef's Table at Marcus

Marcus Wareing re-opened his restaurant at The Berkeley Hotel in Knightsbridge at the end of March with a fresh new look and name.
The dining room at Marcus is gorgeous, retaining the glamour but with a less formal atmosphere and service style.
Now opening directly into the main dining room, the Chef's Table, which seats up to ten, features a stunning porcelain topped table retaining the timeless elegance of the main restaurant, with the kitchen in full view.
The Sommelier's Table at The Connaught
The Sommelier's Table at The Connaught offers an intimate lunch or dinner curated by Head Sommelier Hugues Lepin and two Michelin-starred Chef Hélène Darroze.
Guests booking The Sommelier's Table, which can accommodate up to eight guests, firstly consult with Hugues Lepin to create an exclusive wine menu for the meal, and Hélène Darroze will then create a tasting menu to match the selected wines.
The Sommelier's Table at The Connaught is a hidden gem, discreetly tucked away in the wine cellar.
Guests are greeted by a round solid oak table, with oak and leather chairs, surrounded by carefully selected art work, a warm and moody contrast to the cool white of the wine cellar's limestone walls and flooring.
The Wine Cellar at The Stafford Hotel
The Stafford's Wine Cellars are the ideal setting for entertaining your guests and challenging their taste buds with some of the finest wines from around the globe.
The Main Chamber seats up to 44 for lunch or dinner and the whole space can accommodate up to 95 guests for a standing reception.
The wine tastings are hosted by Gino Nardella, The Stafford's Master Sommelier, who has been at the hotel for over 30 years.
Guests can also have a tour of the cellars including an air raid shelter, which houses an intriguing selection of World War I and II artefacts.
Private Room at The Ivy
The Private Room at The Ivy is situated in the heart of Covent Garden, just above the celebrated restaurant.
It shares their distinctive décor of stained glass windows and wood panelling and is a firm favourite with the capital's theatre, literary, film and media crowds.
The reception area with bar and baby grand piano can accommodate 60 guests for drinks and canapés, while the main dining area seats up to 32 on one table or 60 on individual tables of 10 for breakfast, lunch or dinner.
William Kent Room at The Ritz
The William Kent Room is a magnificent dining room boasting fine views over Green Park, designed in the Italian Renaissance style.
Beneath a breathtaking ceiling, considered to be one of William Kent's greatest works, up to 24 people can be seated around a magnificent hand-crafted mahogany table.
Sexy Fish
The Coral Reef Room at Sexy Fish is an exclusive private dining space with an integral bar and two of the largest live coral reef tanks in the world.
The Coral Room with a capacity for 30 diners seated on one long table or smaller round tables, now features a backlit amber onyx floor.
The Emin Room at 34
Caprice Holdings' 34 Restaurant is a favourite Mayfair restaurant – a lovely menu focusing on meat and game in glamorous surroundings with low lighting, dark woods and a live jazz quartet on the weekends.
They have a private dining room upstairs that can accommodate 60 guests for a seated lunch or dinner with its own private stylish bar area.
The private room is in collaboration with Tracey Emin who has designed art work especially for 34.
Clos Maggiore
The private dining room at Clos Maggiore seats up to 23 guests and is a stunning backdrop for a wedding reception, business event, canapé party or celebratory lunch.
Filled with light from the full height windows overlooking the Covent Garden piazza, it's light and airy during the day and warm and inviting come the evening aided by dark wooden panelling and a roaring log fire.
Clos Maggiore features in our list of the most romantic restaurants in London.
Trishna Restaurant
Trishna is located at 15-17 Blandford Street in Marylebone, specialising in the coastal cuisine of South West India.
The menu of sharing plates is a modern take on traditional coastal classics, using British seasonal ingredients, which resulted in Trishna winning its first Michelin Star in 2012.
The private dining room is in the basement and seats up to 12 guests. Trishna features in our guide to the best Indian restaurants in London.
Cabotte
Cabotte is an intimate, cosy yet elegant restaurant serving classic French cuisine alongside a large collection of fine wines from Burgundy and beyond.
The City restaurant also has two private dining rooms on the first floor – the Jeroboam Room has sit-down dining space for up to 16 guests and the Magnum Room can seat up to 10 guests, and has a window into the kitchen pass.
The Temple at the Andaz Hotel
The Greek Masonic Temple is hidden in the depths of the Andaz Hotel with grandiose throne-like chairs, heavy mahogany, Grade II listed marble columns and a zodiac ceiling.
The impressive space makes a great private dining space, but is also used for events such as fashion shows, product launches and wedding receptions.
Corrigan's Mayfair
Corrigan's Mayfair has a well-made dining room built to last and a menu as timeless as they come, in stylish and glamorous surroundings.
The Kitchen Library is situated in a private booth in the kitchen, surrounded by an encyclopaedia of famous recipe books, where guests are often served by the Chefs, making this a contender for one of the best private dining rooms in London.
Mossimann's Private Dining Club
Set in a luxurious and intimate converted 19th century church, Mossimann's Club is one of the most prestigious private dining clubs in the world.
Ranging from the Montblanc Room, one of the world's smallest private dining room seating only two guests, to the Mappin & Webb room that can accommodate up to 50 guests in the grand dome-shaped Belfry, Mossimann's offers excellent private dining facilities.
Blanchette, Soho
French bistro, Blanchette, opened in Soho with a menu of sharing plates mixing classic French dishes with a modern twist.
The private dining room, The Jungle Room, seats up to 16 people and does not have a minimum spend.
Guests can choose from two set menus, but also order à la carte if they prefer.
The Trophy Room at the Chelsea Pig
The stylish neighbourhood pub just a stone's throw from the King's Road. Its private dining room seats up to 25 guests or 40 standing.
The room is decorated with the original wall panels, set against the beautiful reclaimed mahogany parquet flooring, while vintage trophies collected from around the world adorn the walls on polished steel shelves, offering an unusual space for any occasion.
The Tenma Room at Dai Chi
Dai Chi's Tenma room is named after the food-filled neighbourhood of Osaka that inspired the restaurant's interpretation of Kushikatsu.
Around a large marble table, up to 18 guests can enjoy bespoke Omakase set menus, artisan cocktails and carefully curated wine selections fit for any occasion.
Etna at Norma
Norma first opened its doors in Fitzrovia in September 2019. The restaurant is inspired by the food and culture of Sicily, with particular emphasis on the Moorish influences on the island's cuisine.
Set across three floors of a characterful townhouse on Charlotte Street in Fitzrovia, the first two floors are dedicated to the restaurant, with the top floor a private dining space, Etna, for up to 14 people.
Park Chinois
This opulent, high-end Chinese restaurant has three private dining rooms in luxurious surroundings.
The glamorous Salon Rouge, elegant Salon Noir and semi-private Opera found at Park Chinois are ideal rooms for all intimate events whilst the Wave Bar offers the most decadent cocktail den for drinks parties.
IT London
Sink into the velvet art-deco inspired Lounge located on the first floor.
IT London's spacious area is one of Mayfair's finest hidden gems offering total privacy for a party to celebrate any occasion.
The Bon Vivant Journal
If you liked this top 10 feature, why not read our guide to the best brunch in London, the most romantic restaurants in London or the best alfresco restaurants in London?
Subscribe to The Bon Vivant Journal here.
Note: information correct at the time of writing – please check the details before making any bookings.
Share This