From Bombay-Style cafés to Michelin starred fine dining, read our guide to the best Indian restaurants in London.
Chutney Mary
Chutney Mary, which has recently relocated from Chelsea to St James's, has been one of London's favourite Indian restaurants since it opened in 1990.
Our favourite dishes included the rich and fiery Rajasthani Lal Maas (osso bucco and boneless lamb, clove, garlic) and duck jardaloo, which has slices of pink-cooked duck layered over a sticky, sweet-and-sharp jam of apricot, chilli, jaggery and vinegar – divine.
Chutney Mary's bar, The Pukka Bar, is open throughout the day for food and drink.
Hoppers
The Sethi siblings that are behind acclaimed Indian restaurants, Gymkhana and Trishna, launched a smaller sister restaurant, Hoppers, in Soho at the end of 2015, which featured in our guide to the best new restaurants of 2015.
The restaurant seats around 40 and is inspired by the roadside shacks of Tamil Nadu and Sri Lanka that serve hoppers and dosas.
A thin, bowl shaped pancake made with fermented rice batter and coconut milk, these South Asian staples are dished up with a choice of meat, seafood or vegetable kari and a selection of sambols and chutneys made with freshly ground coconut.
Bombay Brasserie
Serving the neighbourhood of Kensington since 1982, Bombay Brasserie is known for its delicious, authentic and eclectic Bombay cuisine.
Arrive early and enjoy a cocktail at the bar, which, with its gallery of faded photos, plantation shutter and traditional wall fans, is like stepping back in time to the gentlemen's clubs of Imperial India.
Menu highlights for us included the Masala Seabass, the crispy fried baby spinach, which was smothered in a tangy yoghurt, date and tamarind chutney and lightly spiced potato rosties.
With large tables set far apart, it is the perfect place to take business clients or for a special occasion.
Cinnamon Club
Cinnamon Club has been serving the politicians and policy-makers of Westminster since 2001. Innovative Indian dishes are served in a high ceiling, book-lined former Victorian library with downstairs cocktail bar.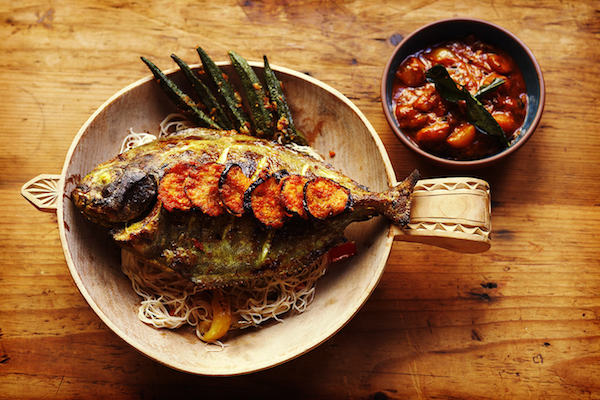 Following a short period of closure, the restaurant re-opened in 2015 following a major refurbishment.
Highly-regarded Executive Chef Vivek Singh and Head Chef Rakesh Ravindran Nair have developed a new menu that combines The Cinnamon Club's signatures with new dishes and celebratory platters.
We can highly recommend their lunch menu, which is excellent value.
Dishoom
Dishoom, a stylish Bombay brasserie in the style of the old post-colonial Irani cafes of Bombay, has taken London by storm.
Since its first restaurant opened on St Martin's Lane in 2010, three sister restaurants have opened in Shoreditch, Kings Cross and most recently on Carnaby Street.
Serving breakfast options, salads, grills, biryanis, dals and a variety of small plates, we thought the stand out dishes were the dal makhani, the lamb cutlets and the crunchy, tangy Bhel (puffed rice, Bombay Mix and nylon sev tossed with fresh pomegranate, tomato, onion, lime, tamarind, mint).
Bookings are taken for breakfast and lunch, but only for groups at dinner, so be prepared to wait for a table. There is a basement bar, which will help time pass more quickly as you wait.
Gymkhana
Following the success of Trishna, restaurateur Karam Sethi launched Gymkhana on Albemarle Street in Mayfair.
The restaurant is inspired by the Colonial Indian gymkhana clubs, and this is certainly reflected in the colonial style interiors of dark wood, marble, ceiling fans and black and white photographs.
If you're visiting Gymkhana for dinner, insist you sit downstairs where the clubby, subdued lighting really comes into play.
Pick a booth and look out onto the bar sending out beautifully coloured cocktails from a creative list on ornate silver trays.
The impressively large-scale menu allows for lots of ordering, and sharing is definitely the way to go here.
Highlights are plentiful, but a particular star was the Keralan Moilee Mussels served with Curry Leaf and Garlic Naan.
Gymkhana is our pick for one of the best Indian restaurants in London.

Kahani
Chef Peter Joseph, formerly Head chef at Michelin-starred Tamarind, has opened his own restaruant near Cadogan Hall, just by Sloane Square.
The 90-cover restaurant is inspired by the chef's upbringing in Tamil Nadu in South India and the menu focuses on dishes cooked on a robata grill.
Highlights on the menu included soft shell crunchy crab with tomato chutney; delicious lamb chops with Kashmiri chillies; and smoked Malabar prawns.
For curry enthusiasts, there's an excellent butter chicken with chargrilled chicken.
Kahani combines classic Indian cooking with British seasonal ingredients in an elegant but relaxed dining room in Chelsea.
Quilon
Michelin-starred Quilon opened in 1999 and is appreciated for its refined southwest coastal Indian cooking that mixes the traditional with the experimental.
Seafood is at the heart of the menu but meat and vegetarian dishes are also offered and are mostly designed for sharing.
Roti Chai
Roti Chai is a short walk from Oxford Street offering Indian street food in a roadside-style cafe, plus a restaurant with a modern Indian dining menu of small plates.
The ground-floor 'street kitchen' is ideal for a quick lunch with bhel pooris, samosas and portions of light Gujarati dhokra sponge among the dishes on offer.
The dining room is only open in the evenings with Bengal fish curry, aloo tikka burgers and Keralan spiced wings among our favourite dishes.
Trishna
Located in the heart of London's Marylebone Village, Trishna specialises in coastal cuisine of south-west India and was awarded a Michelin Star in 2012.
The cooking here is highly accomplished and vibrant and the tasting menus provide a good all-round experience.
The informal and sociable neighbourhood dining atmosphere offers seating for up to 80 guests and is available for lunch, dinner, private dining, or exclusive hire. Trishna's doors also open onto the street, creating a semi-alfresco ambience throughout the restaurant.
Trishna features in our guide to the best restaurants in Marylebone.
The Best Indian Restaurants in London
If you enjoyed this feature on the best Indian restaurants in London, read some of our other London guides including the best Italian restaurants, our favourite restaurants in Soho, the best on offer in Covent Garden and the best Japanese restaurants in London.
Sign up to The Bon Vivant Journal here.
Note: none of the venues have paid to be featured in the article.