A review of the serene and utterly gorgeous Masseria Trapana, located among the olive groves and lemon trees in Puglia, Italy.
I can't imagine anyone arriving at Masseria Trapana and not falling in love instantly.
The traditional Puglian masseria (a fortified farmhouse), which dates back to the 16th Century, was fully restored to its current splendour and opened as a hotel in 2015.
The drive to Masseria Trapana, which is surrounded by 60 hectares of olive groves, gives you a sense of the tranquillity and the utter relaxation that await behind the fortress's stone walls.
Enter through the imposing wooden doors into a courtyard dotted with trees, flowers and lanterns and feel the serenity engulf you.
Masseria Trapana consists of six walled gardens brimming with beautiful orange and lemon trees, which are home to eight suites and two rooms.
Stone walls with high arched ceilings dominate the bedrooms, keeping true to Trapana's history and gives a very definite sense of place.
Wrought-iron four-poster beds, cream sofas and patterned rugs are also a theme throughout.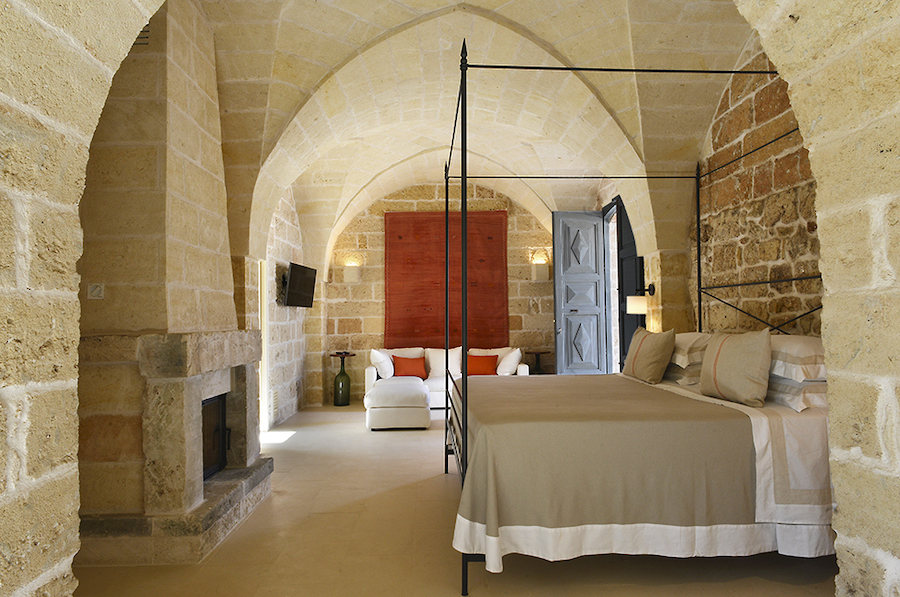 The highlight of the rooms, however, is that each has a private garden with a large, deep sunken bath where you can relax under the lemon trees at the end of magical day in Puglia.
Utterly idyllic.
Rest in a hammock among the lemon trees in the grounds of the hotel or head straight to the gorgeous swimming pool surrounded by large sunbeds under the plum trees.
There's a cute stand where you can borrow a hat to help shade you from the Puglian sun along with a phone to call for a top up of your wine.
The restaurant serves a nightly changing set menu of traditional Puglian cuisine while lunch is a mix of local and classic hotel dishes.
A weekly pizza night adds some fun, when you choose your own toppings in the kitchen and watch it cook in the stone-bake oven.
Sundowner cocktails on Trapana's almost secret rooftop are a must as well (as you can see below).
Masseria Trapana is all about the barefoot luxury – relaxed, unstuffy and seemingly effortless but with owner Rob's heart and soul poured into it.
Trapana is a real gem of a hotel, which is as relaxing and restorative as they come.
Its charm lies in its simplicity and authenticity, much like Puglia itself.
Masseria Trapana is located 20 minutes by car from the city of Lecce, and 30 minutes from Brindisi airport.
For the 2020 season, Trapana will operate as an exclusive-use villa rather than a hotel due to the impact of Covid-19.
For further information, visit the hotel's website here.
Book with Us for Free
Book your stay at Trapana and access a range of VIP added benefits.
Contact our travel team here to book.
The Bon Vivant Journal

If you enjoyed this review of Masseria Trapana,you may also enjoy our recent articles on Silversands Grenada, Six Senses Douro Valley and Finca Cortesin.
Sign up to The Bon Vivant Journal here.
Share This