Caravan

Caravan offers a weekend brunch menu to rival any in London in a relaxed and effortlessly cool setting.
With locations on Exmouth Market in Clerkenwell, on Granary Square behind King's Cross station, Caravan King's Cross, Bankside, The City and Fitzrovia.
Caravan serves some of the best coffee in London as the New Zealand influenced restaurant has its own coffee roaster.
Kudu
Kudu is a fantastic restaurant in Peckham that you wished you had in your neighbourhood. The menu is influenced by the chef's South African heritage with a wine list to match.
Highlights on the brunch menu include Sourdough Waffle with Duck Eggs, Homecured Bacon and Crème Fraîche, Honey Roasted Ham Crumpet with Black Pudding, Eggs and Hollandaise, and French Toast Babka, Kumquats, Hazelnuts and Miso Caramel. 
A selection of classic brunch cocktails such as Bucks Fizz, Bellinis and Bloody Mary pitchers are also on offer.
Website: https://www.kuducollective.com/kudu/
Balthazar London, Covent Garden
Balthazar London now offers a brunch menu to rival its sister restaurant in New York, which excelled in its weekend brunch offering.
Dishes include apple cinnamon pancakes with Canadian maple syrup, spaghetti with lobster, a large selection of 'Les Oefs' (Benedict, Royale, Florentine) and a hamburger with excellent crispy fries. Wash it all down with the Balthazar Bloody Mary.
Duck & Waffle, The City
On the top floor of The Heron Tower in The City, Duck and Waffle is open all day, every day, with an all day menu from 11am to 2am.
From 2am until 6am the restaurant offers a separate late night menu, and breakfast is served from 6am to 11am.
Chef of the moment, Dan Doherty's brunch menu includes the restaurant's signature dish, Duck and Waffle, which consists of confit duck with fried duck egg and mustard maple syrup and interesting dishes such as the Foie Gras 'All Day Breakfast'.
Continue reading our guide to the best brunch in London…
Hawksmoor

Although more widely known for being one of London's best steakhouses, Hawksmoor offers a mammoth Hawksmoor Full English for two people to share at its Guildhall location in The City.
Its other venues in Spitalfields, Seven Dials and Air Street offer a roast beef with all the trimmings on Sundays.
The Laundry
The Laundry, Brixton's neighbourhood bistro and wine shop, offers guests a varied brunch menu each day from 9am.
Serving classics such as crushed avocado and pickled chilli on sourdough and Croque Madame, with a gooey combination of gruyère, béchamel and fried egg, The Laundry also offers bakery items such as toasted banana bread and pastries.
A selection of drinks are also available including Bloody Mary's, Bellinis, freshly squeezed juices and smoothies.
Visit in the warmer months to enjoy the lovely outdoor terrace above.
Sumosan Twiga
Sloane Street restaurant Sumosan Twiga launched its 'Allegria Brunch' series in August 2020, running every Saturday from 1pm-6pm.
This is a high-octane brunch with performers, dancers and DJs entertaining you as you feast on the brunch menu of a mix of modern Japanese and classic Italian dishes.
The menu is priced at £55 and includes dishes such as gyoza miso cod and prawn with chilli yuzu ponzu, gyoza duck confit with ponzu and a selection of maki rolls before moving on to heartier mains such as tagliatelle bolognese and chicken yakitori.
The Sumosan Twiga brunch is a great idea for a group of friends or a celebratory brunch. It's a lot of fun!
Flesh & Buns
Flesh & Buns, the Japanese Izakaya restaurants by the Bone Daddies group, offer brunch at both the Oxford Circus and Covent Garden restaurants.
At Oxford Circus, guests can choose the brunch menu or the ultimate brunch menu, both of which comprise a pisco sour on arrival, snacks and a dessert.
Dishes include chilli miso brisket and Japanese fried chicken, served with homemade steamed buns.
At Covent Garden, guests have the choice of three small dishes, such as Korean fried wings, ceviche and softshell crab with yuzu mayo, and one flesh & bun.
Daffodil Mulligan
Richard Corrigan's Shoreditch restaurant Daffodil Mulligan has launched a margarita brunch with live music from 12.30-2.30pm every Saturday.
Dishes include small plates such as Crispy Mangalitza with Durrus, Pickled Onions and Watercress and Warm Soda Bread with Smashed Avo and Poached Eggsand large plates to share like Wood Fire Baked Crab Mac with Aged Parmesan. 
Drinks-wise there's a selection of seasonal margaritas such as Kiwi and Burnt Jalapeñoand an Irish Margarita with Olmeca Tequila, Connemara Irish Peated Whiskey, Kinsale Hazy Summer Mead and Fresh Lemon.
Website: www.daffodilmulligan.com
Aviary
On the 10th floor of the Montcalm Hotel on Finsbury Square, The Aviary is a new restaurant, bar and roof terrace with fantastic views of London's skyline.
The restaurant offers a modern British menu, including a weekend brunch menu serving classics such as eggs Benedict, crumpets, avocado on toast as well as oysters, Dorset crab and chargrilled maple glazed bacon chops.
With excellent cocktails and a list of internationally renowned DJs, Aviary is a great spot for lazy weekends with friends.
Sexy Fish
Sexy Fish on Berkeley Square in Mayfair is undoubtedly one of London's most glamorous restaurants.
Throughout the summer, the restaurant will host their 'Sexy Brunch' parties every Sunday from 11.30am – 4.30pm where guests can enjoy an Asian-focused menu to a backdrop of guest DJs. Recent DJj have included Jodie Harsh and Nick Grimshaw.
The menu is classic with a 'Sexy' twist and includes Sexy Fish eggs, served on a black charcoal muffin with tuna & avocado or lobster and truffle.
My personal favourites are from the Asian selection including the rock shrimp tempura, buttermilk fried chicken, sashimi salad and a fantastic miso glazed Chilean seabass.
Lima Fitzrovia
Lima Fitzrovia is one of those restaurants that you want to revisit time and again – the food is vibrant, colourful and full of punchy and invigorating flavours.
Since opening in 2012, the restaurant has been awarded a Michelin star and opened a sister restaurant, Lima Floral, in Covent Garden.
Lima Fitzrovia's brunch menu of Peruvian plates and pitchers of Pisco punches to share offers a relaxed place to spend your weekends.
Starters of ceviche and tiraditos to share are combined with a choice of mains, including a delicious Hake Plancha. Leave enough room for the Peruvian doughnuts for dessert.
Cecconi's, Mayfair
Serving fine Italian food from the morning until the early hours, Cecconi's is a perfect spot for breakfast, brunch or lunch and a great way to break up a day's shopping on nearby Bond Street.
Cecconi's is fun and glamorous, with a real buzz about the place – and Prosecco on tap in never a bad thing, especially for a Sunday brunch in London.
The Wolseley, Mayfair
The Wolseley has maintained its place as one of London's chicest destination for brunch in London, with businessmen and fashionistas flocking there for the grand dining room and people watching.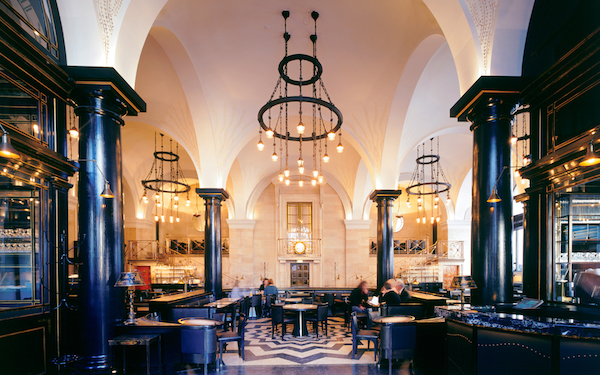 Try the grilled kipper with mustard butter, haggis with fried duck eggs or the mashed avocado with seeded croustade.
34

The brunch menu at 34 Restaurant offers eggs with a twist – lobster, crab, grilled asparagus, black pudding, smoked salmon, chorizo and much more.
Grills include spatchcock chicken, pork belly, swordfish and steak; and brunch staples like buttermilk pancakes, pasta and Caesar salad are also available.
A Sunday roast with all the trimmings is also available for Sunday brunch.
Sea Containers at The Mondrian
The weekend brunch offering at Sea Containers is a hearty affair with a large selection of brunch dishes with a twist including breakfast hash (salami, roast potato, poached egg), English breakfast flatbread (fried egg, sausage, crispy bacon, HP sauce), cod brandade (poached egg, potato, cayenne hollandaise sauce) and, for those looking for something indulgent, seasonal Oysters.
The Egg Sammy is particularly good with egg, crispy bacon jack cheese and avocado served in a brioche bun.
The setting on the Thames is perfect for spending a few lazy hours with friends and family with a bottomless offering of Prosecco and bloody mary as well as list of hard shakes and smoothies for a healthier option.
Allegra
Allegra's weekend brunch is back with new dishes carefully curated by Chef Patrick Powell.
Think Potato Rosti, Lightly Smoked Sea Trout, Pickled Onion and Mustard and Lobster French Toast, Tomato, Smoked Butter Sauce as well as Patrick's signature ​Truffled Croque Madame with Baked Ham and Confit Egg​.
A handful of dishes to share 'For The Table' are also available such as Whole Roast Yorkshire Free Range Chicken with Caramelised Lemon and Watercress Butter. 
A selection of cocktails are made exclusively for brunch such as East Side (Ojo de Dios Mezcal, Cucumber, Lemon balm, Honey and Lime) or the 7th Garden (Wyborowa Vodka, Pickled Ginger, Chamomile, Prosecco and Lemon).
Website: https://www.allegra-restaurant.com/
Quaglino's
Quaglino's has long been synonymous with glamour and excess since its heyday in the 1920s.
It has kept its art deco roots, but there's a definite feel of 80s and 90s flashiness for good measure.
Starters include hand chopped beef tartare and oak smoked salmon, while mains focus on the roast beef or pork, or the seafood platter to share.
The bottomless bubbles are attentively topped up, with up-beat music keeping the atmosphere lively.
With no windows there is no time of day in here, so the decadence comes all the easier.
Theo Randall at The Intercontinental
Theo Randall at the Intercontinental offers a four-course 'La Dolce Vita' brunch menu at its Mayfair restaurant.
In typical Italian style the courses are divided into antipasti, primi, secondi and dolci.
The antipasti highlights are fresh burrata with red peppers and swiss chard; panzanella with red and yellow peppers, tomatoes and anchovies; and a large variety of excellent salads that you can help yourself to.
The Primi, 'A taste Theo', involves an excellent pumpkin ravioli with cime di rapa, ricotta, butter and sage. For mains, select from a range of breakfast-like dishes such as a frittata or, my favourite, the beef tagliata with beans, tomatoes and salad.
Ember Yard, Soho
Spanish restaurant Ember Yard has now started offering a weekend brunch menu between 12pm and 4pm on Saturdays and Sunday, running alongside the regular lunch and tapas menus.
Try the baked eggs with chorizo, tomato, mushrooms, peppers and spinach or the avocado and grilled spring onions on flatbread with chilli, garlic and poached egg.
Continue reading our guide to the best brunch in London…
The Delaunay, Aldwych

The Delaunay, sister restaurant to The Wolseley and Brasserie Zedel from restaurateurs Chris Corbin and Jeremy King, sits on the corner of Drury Lane and Aldwych.
The restaurant is open seven days a week – until midnight from Monday to Saturday and 11pm on Sunday – serving breakfast, afternoon tea, and à la carte lunch and dinner menus 'inspired by the grand cafés of Europe'. They also serve some of the best brunch in London.
Margot, Covent Garden
Italian Restaurant Margot, which opened at the end of 2016 in Covent Garden, has launched a weekend brunch menu.
Standout choices include Margot's twist on a brunch favourite, with poached eggs served with avocado bruschetta and crispy pancetta.
Margot's is a great place to relax with the weekend papers, socialise with friends or family over an Italian-inspired brunch.
Nobu Shoreditch
The breakfast menu at Nobu Shoreditch includes Japanese twists on the breakfasts we know, including a Nobu style "Full English" with Japanese Kurubuta sausage and crispy boudin noir alongside the traditional items.
The weekend brunch menu includes a selection of hot & cold Nobu classics including oysters, ceviche chicken karage, Japanese beef curry, pan seared salmon, salads and assorted sushi.
The brunch menu is available Saturday and Sunday 11:30am – 3pm.
Pachamama, Marylebone
Peruvian restaurant Pachamama has just launched their new brunch menu. Available on week days as well as weekends, Pachamama's brunch menu offers brunch classics with a Peruvian twist.
Dishes include: Quinoa Waffles with Devonshire Clotted Cream and Yacon Syrup; Beef Short Rib Porridge with Peruvian Kimchi & Burford Brown Eggs; Smoked Brisket with Plantain Hash and Aji HP.
Brunch will be available 11.30am-3pm Monday to Friday and 11am-4pm at the weekends.
Riding House Café
The team behind the acclaimed Garrison and Village East in Bermondsey opened the Riding House Café, an all day Brasserie offering a selection of small plates to share as well as traditional main courses in Fitzrovia.
The restaurant has a great vibe and a 'buzzy' bar area too, making an ideal venue for weekend brunch in London.
Dean Street Townhouse, Soho
Dean Street Townhouse serves classic British cuisine from first thing in the morning until the early hours. The weekend brunch menu offers a full range of breakfast classics as well as a traditional Sunday roast.
The pitchers of Bloody Mary are always popular too!
Lantana

This delightful coffee house is nestled down a lane in Fitzrovia. Lantana's Australian ownership is reflected in the brunch style dishes, flat whites and relaxed atmosphere.
The cakes are particularly good and breakfast dishes always delight.
Gunpowder
Located in Spitalfields, Gunpowder is a small, cosy Indian restaurant, specialising in home-style Indian cooking.
The brunch here isn't your traditional eggs and avocado (although they do offer a chickpea pancake with a fried egg on to). Try the spicy empanada and the paneer parcel and the cardamon and ginger tea porridge.
The best brunch in London.
If you like your brunch with a glass (or bottle) of something bubbly, read our guide to champagne brunch in London.
If you liked this top 10 feature on the best brunch in London, why not read our guide to the best gluten free restaurants, the best cocktail bars in London or the best alfresco restaurants in London?