Impossibly turquoise water and white sand beaches make Turks and Caicos a beach-lover's dream holiday and there's no better place to enjoy than at Amanyara.
After a 10 minute drive along a bumpy, unpaved road you reach the grand, ceremonious entrance at Amanyara with its stunning courtyard and reflecting pool.
It's only 30 minutes from the airport but it instantly feels gratifyingly remote.
Meander from here through seemingly wild, but carefully manicured, greenery and you'll make your way to your own private pavilion.
There are no regular rooms here, but 38 secluded pavilions that feel more like a private retreat than a hotel room.
All are designed in the same way with dark wood, high ceilings, platform king-sized beds and huge soaking tub with an overwhelming sleek Asian style.
Three of the walls feature sliding glass doors, where the glorious views are designed to tempt you outside.
What differs is the setting of the pavilions, with the most coveted being an oceanfront pavilion where you can walk from your room over a small rocky patch into your own private stretch of sand.
A perfect spot to watch the sun set.
In the main pavilion area, there's a gorgeous 164ft infinity pool made of black volcanic rock that feels incredibly serene – take your seat on one of the huge comfortable day beds that frame the pool area.
Then head down to the beautiful beach area with its glorious turquoise water and picture-perfect white sand. It really is the stuff of dreams.
Aman hotels are renowned for their spa and well-being focus – at Amanyara the spa is made up of four pavilions surrounding a tranquil pond and relaxation pool.
You'll instantly feel at peace with the world.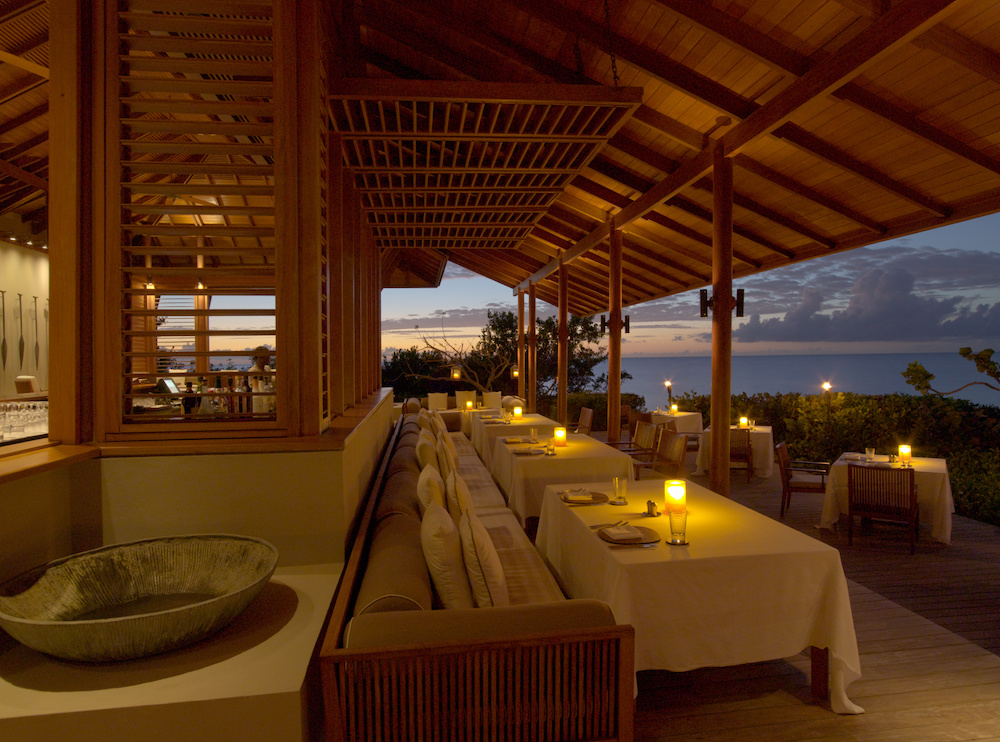 There are two restaurants – the main, more 'proper' restaurant is situated around the central pavilion, which is beautifully lit up at night, but my favourite is the Asian-inspired restaurant where you'll have your salads, sushi and rose for lunch.
You never see a bill at Amanyara, which feels liberating and rather decadent… until you receive the final bill at checkout and ask yourself if you really did have that extra bottle of rose with lunch every day (probably).
Private, intimate and discreet, Amanyara is all about getting away from it all and enjoying your own secluded hideaway.
For further infotmation on Amanyara, please click here.
The Bon Vivant Journal
You may enjoy reading our other travel guides including our guide to the best hotels in Mykonos, the best hotels in Elounda Crete, Rosa Alpina in the Italian Dolomites and a guide to the best ski hotels in Megeve.
Sign up to The Bon Vivant Journal here.
Share This