L'Anima, Liverpool Street
L'Anima offers contemporary Italian cuisine in elegant surroundings close to The City.
With floor to ceiling glass windows and the white décor, the restaurant is dazzlingly bright and the food is superb – click here to read our review of L'Anima.
Corrigan's Mayfair
Corrigan's Mayfair has a well-made dining room built to last and a menu as timeless as they come, in stylish and glamorous surroundings.
With a number of private dining rooms, Corrigan's is an excellent spot in Mayfair for a business lunch, whether in the main dining room or in greater privacy in one of the separate rooms.
Sexy Fish, Mayfair
Sexy Fish on Berkeley Square in Mayfair is undoubtedly one of London's most glamorous restaurants. It has recently launched a new two-course express lunch menu featuring a variety of seafood and meat dishes.
From the Kuikku menu enjoy dishes such as yellowtail maki, kimchi with pear and black sesame, and a light vegetable tempura.
The extravagant interior at Sexy Fish is a real feast for the senses and the food never disappoints. The express menu is available Monday to Friday between 12pm-3pm.
Coq d'Argent, The City
Situated in the heart of the Square Mile, Coq d'Argent's restaurant serves modern French cuisine while the brasserie and terrace serve a lighter menu with more of a modern European hint.
Coq d'Argent has an outdoor terrace and a large and rather beautiful garden terrace, with great views of some of London's most well known landmarks, including St Paul's Cathedral. With its location Coq d'Argent is a perfect spot for a business lunch in The City.
The Wolseley, Mayfair
The Wolseley has maintained its place as one of London's chicest destination, which remains popular with businessmen and fashionistas alike.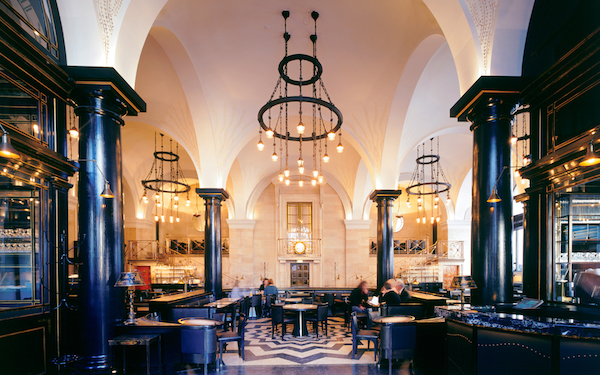 The grand dining room is an impressive space and the location is ideal for those wanting something buzzier in the Mayfair area.
Sushisamba, The City
With a prime location on Bishopsgate in The City and a stunning view of London as a backdrop, Sushisamba London is a popular destination for a business lunch in The City, focusing on the fusion cuisine of Japan and Peru.
Sharing the building with the ever popular Duck and Waffle (excellent as a brunch option), Heron Tower offers 2 excellent restaurant choices for City workers.
Galvin La Chapelle, Shoreditch
Galvin La Chapelle is the Galvin brothers' venture in St Botolph's Hall, a beautiful 19th century building close to Spitalfield Market.
The fine dining restaurant is dark and romantic, but during the day makes a good spot for lunch in beautiful surroundings. The Galvin brothers also have a more casual all-day cafe with outdoor seating.
Cafe Murano, St James's
Cafe Murano on St James's Street offers a more casual version of Angela Hartnett's Michelin starred restaurant in Mayfair, Murano.
The menu offers has a Northern Italian foucs, including a fantastic fettuccini with wild boar and gnocchi with sautéed ceps.
Lutyens, Fleet Street
Located in the former Reuters building on Fleet Street, Lutyens is unmistakably Conran and a good addition to an area without many good dining options for a business lunch or dinner.
The restaurant includes a large bar with a charcuterie counter, a 130 seat restaurant and 4 private dining and meeting rooms.
The Delaunay, Aldwych
The Delaunay sits on the corner of Drury Lane and Aldwych, and the restaurant is open seven days a week serving breakfast, afternoon tea, and à la carte lunch and dinner menus 'inspired by the grand cafés of Europe'.
While dinner is a glamorous affair, it's a great spot for an unstuffy lunch that has the threat of lingering long into the afternoon.
Hutong, London Bridge
Towering 33 floors above London Bridge in The Shard, Hutong offers Northern Chinese delicacies in a restaurant with a traditional design of dark woods and red Chinese lanterns.
The food is excellent and the intimate nature of the restaurant provides an excellent setting for a business lunch in London.
Dean Street Townhouse, Soho
The Dean Street Townhouse is a boutique hotel and dining room from the Soho House Group.
The restaurant service classic British cuisine from first thing in the morning until the early hours and it's a great place for a business breakfast or lunch in Soho, but make sure you clear your calendar for the rest of the afternoon, as lunch often merges into dinner here.
Rowley's Restaurant, St James's
Based in London's St James's area housed in the original Walls Butcher, Rowley's oozes history and the traditional design further compounds the sense of history.
Don't be fooled though, as this is not a stuffy Mayfair restaurant – Rowley's is great fun and offers excellent steak with unlimited fries!
Bon Vivant's 'Best Of' Guides
If you liked this guide to the best restaurants for a business lunch in London, why not read our guide to the best brunch in London, the best cocktail bars in London or the best gastropubs in London?
You may also enjoy reading our guide to the best restaurants in The City.