Roast beef or lamb? Rare or medium rare? Extra gravy?
A Sunday roast is a classic British tradition, where everyone has an opinion on how to make the perfect dish. Here is a list of some of the best Sunday roasts in London.
Hawksmoor
Hawksmoor has built a reputation for being one of London's best steakhouses.
The original restaurant opened in Spitalfields in 2006 and since then, the team has opened several more restaurants across London, one in Manchester and a recent expansion to New York.
Hawksmoor serves up rump of Longhorn, which is cooked to a rosy medium rare and charred on the outside.
The meat is served with an enormous Yorkshire pudding, duck fat roast potatoes, carrots, greens and lashings of bone marrow and onion gravy.
Blacklock
For one day a week, chops are off the menu at Soho chop specialist Blacklock, with the menu being devoted to a Sunday roast.
Choose beef, lamb, pork or "all-in", a combination of the three, with a large sharing plate overflowing with meat and all the trimmings.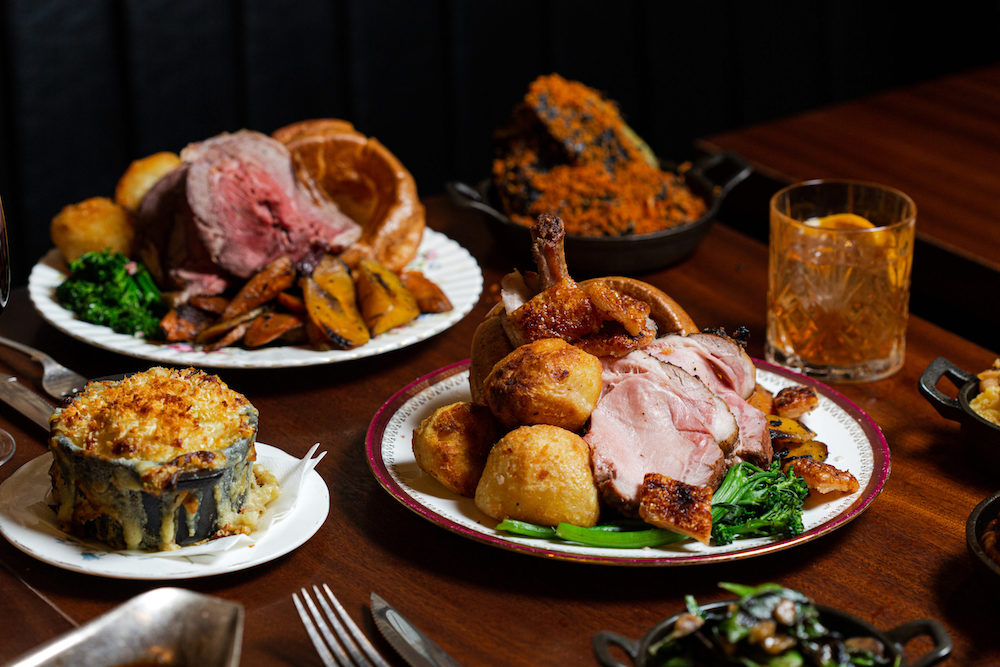 Additional sides include cauliflower cheese and minted peas and horseradish, but save space for the signature dessert of white chocolate cheesecake served family-style at the table.
Blacklock features in our guide to the best restaurants in Soho. and is a personal favourite.
The Marksman, Hackney
The Marksman is a 'proper pub' with an excellent food offering in Hackney.
Sunday lunch is a very reasonable £40 for 3 courses with main including whole roast chicken, Hereford T-Bone and a pie, all to share.
The Coal Rooms, Peckham
Housed in the former Peckham Rye train station ticket office, The Coal Rooms is a refined yet relaxed bar, restaurant and café launched by Sam Bryant, formerly of the Smokehouse.
The menu is a selection of meat and fish dishes cooked over a charcoal grill and oven:
Dry aged duck breasts, roasted cod heads and 40 day-aged sirloin and rib, all accompanied by a selection of unusual house sauces including red eye gravy, crab apple jelly, and greengage and mead ketchup.
Keep reading our guide to the best Sunday roasts in London…
The Colony Grill Room, Mayfair
The Colony Grill is the place you need on a Sunday afternoon for a spot of luxury with your roast.
You'll find a menu featuring roast dry aged sirloin of beef alongside Yorkshire puddings, roast potatoes, barbecued hispi cabbage and glazed carrots.
The Holland, Kensington
The Holland opened on Earl's Court Road in Kensington in September 2022, having been totally refurbished to create a homely, welcoming pub on the ground floor and an elegant dining room upstairs.
Sundays are all about a traditional roast, including beef rump with Yorkshire pudding and beetroot horseradish, confit chicken leg or a vegan option.
All roasts served with roast potatoes, gravy, greens and baby carrots.
The Cadogan Arms
The Cadogan Arms on the King's Road has been a Chelsea public house for over two centuries and is a much-loved institution. Following a short closure, the pub re-opened in 2021 following a revamp, restoring the place to its former glory. 
The Sunday lunch menu doesn't disappoint and has plenty to offer, including Longhorn beef, shoulder of lamb to share, and a sharing board option with a selection of roast meats with all the trimmings.
The Chelsea Pig, Chelsea
Sitting on a Westminster sofa next to an open fire, the cosy but stylish settings of neighbourhood pub, The Chelsea Pig, are matched with great British comfort food.
On Sundays, the roast menu includes Gloucestershire pork belly with toffee apple sauce; Sutton Hoo chicken with spiced bread sauce and a Cauliflower steak with red wine sauce.
The Laundry, Brixton
Not quite ready to leave al fresco dining behind? Sunday roasts are available to order on The Laundry's heated terrace, complete with tartan blankets.
Options include pork belly with apple sauce; 28-day aged roast Hereford sirloin with creamed horseradish, and a vegan leek & mushroom pie, all served with roast potatoes, seasonal squash, minted peas, glazed carrots and gravy.
The Coal Shed, Tower Bridge
Inspired by founder Raz Helalat's Persian roots, The Coal Shed celebrates coal roasted, rare breed heritage meats all week round, and Sunday lunch is no different.
Its sharing roast centres around a 500g cut of aged beef sirloin, alongside Sunday trimmings such as beef dripping potatoes and Yorkshire puddings with beef jus and horseradish.
The Princess Royal, Notting Hill
The Princess Royal, from the Cubbitt House group and chef Ben Tish offers an excellent Sunday roast in Notting Hill.
Start with some oysters and dishes from the raw bar before taking your pick of the roasts: Angus beef rump, Middle white porchetta, roasted lamb leg, free range chicken half or a Nutroast Wellington.
All served with beef fat potatoes, pickled reb cabbage, sprouting broccoli, honey mustard carrots, Yorkshires and gravy.
Dean Street Townhouse
Dean Street Townhouse is every bit a Soho classic.
The restaurant exudes a Soho charm, combining vintage armchairs, cut glass chandeliers and wooden floors and contemporary British art that adorn the walls.
The Sunday roast menu offers 3 courses for £38, which is good value and a great places to while away the day.
Choose from roast Hereford beef with Yorkshire pudding; roast Yorkshire chicken, chipolata, bread sauce, stuffing; roast pork, pigs in blankets, apple sauce; or a mushroom Wellington.
The Drapers Arms, Islington
The Drapers Arms in Islington is a neighbourhood pub with a much-coveted terrace and garden.
At the entrance, the atmosphere is bustling and welcoming, with ample beers, ales and ciders on tap for the drinkers, which stand alongside the diners to the sides and upstairs.
It is a place where you feel at home immediately.
There is a good selection of dishes available on the Sunday lunch menu, but we suggest going for the roast fore rib of beef with all the trimmings to share between 3 or 4.
The Coach, Clerkenwell 
Roasts at The Coach include a 48 day aged grilled côte de boeuf, grilled porterhouse steak, and a seven hour roast shoulder of lamb, all served with duck fat roast potatoes, roasted carrots, greens and leek gratin.
The Coach gets the balance of proper pub and great food just right.
The Game Bird, The Stafford London
The Game Bird first opened at The Stafford London in March 2017. It offers a two or three course Sunday roast accompanied by all the trimmings, with meats carved tableside from a bespoke silver trolley. 
Menu highlights include H Forman & Son Smoked Salmon, Roast British grass-fed beef, Yorkshire pudding, roast potatoes and seasonal vegetables, and a sticky toffee pudding mousse, salt milk ice cream and chocolate wafers.
Vegetarian options are available.
The Best Sunday Roasts in London
If you enjoyed our guide to the best Sunday roasts in London, you may also enjoy our guide to the best brunch in London or perhaps the best Champagne brunch in London.
Subscribe to The Journal
Sign up to The Bon Vivant Journal here.
Share This