J Sheekey's
J Sheekey's is a fantastic option for pre and post theatre in the West End. Although it does not offer a theatre menu, the à la carte menu has an impressive choice of seafood and the warm, clubby atmosphere will make for a wonderful night out.
It's a personal favourite for post theatre dining.
Bentley's Oyster Bar and Grill
The theatre menu at Bentley's Oyster Bar and Grill features freshly caught fish from the British Isles. This menu is available in the Grill only, which is an intimate and relaxed space with warm wooden flooring and William Morris designed fabric on the walls.
Pre theatre menu available Monday to Friday from 17.30 – two courses £26 or three courses £29.
Bocca Di Lupo
Bocca di Lupo showcases the best of Italy with a menu highlighting the area from which each dish originates. The pre theatre menu changes daily offering 'one-dish' meals – a small number of dishes all sharing the same main ingredient.
You can, of course, enjoy the whole menu – I would recommend sitting at the counter and doing just that. Bocca di Lupo is one of our favourite Italian restaurants in London.
The Delaunay, Aldwych
The Delaunay sits on the corner of Drury Lane and Aldwych, in prime position for theatre-goers. The restaurant is open seven days a week with last orders at midnight (11pm on Sundays) so perfect for a post theatre dinner in glamorous surroundings.
Brasserie Max
On Covent Garden's prettiest street, Monmouth Street, Brasserie Max at the Covent Garden Hotel is a good theatreland choice. The set menu changes monthly, with the current menu offering a variety of autumnal dishes.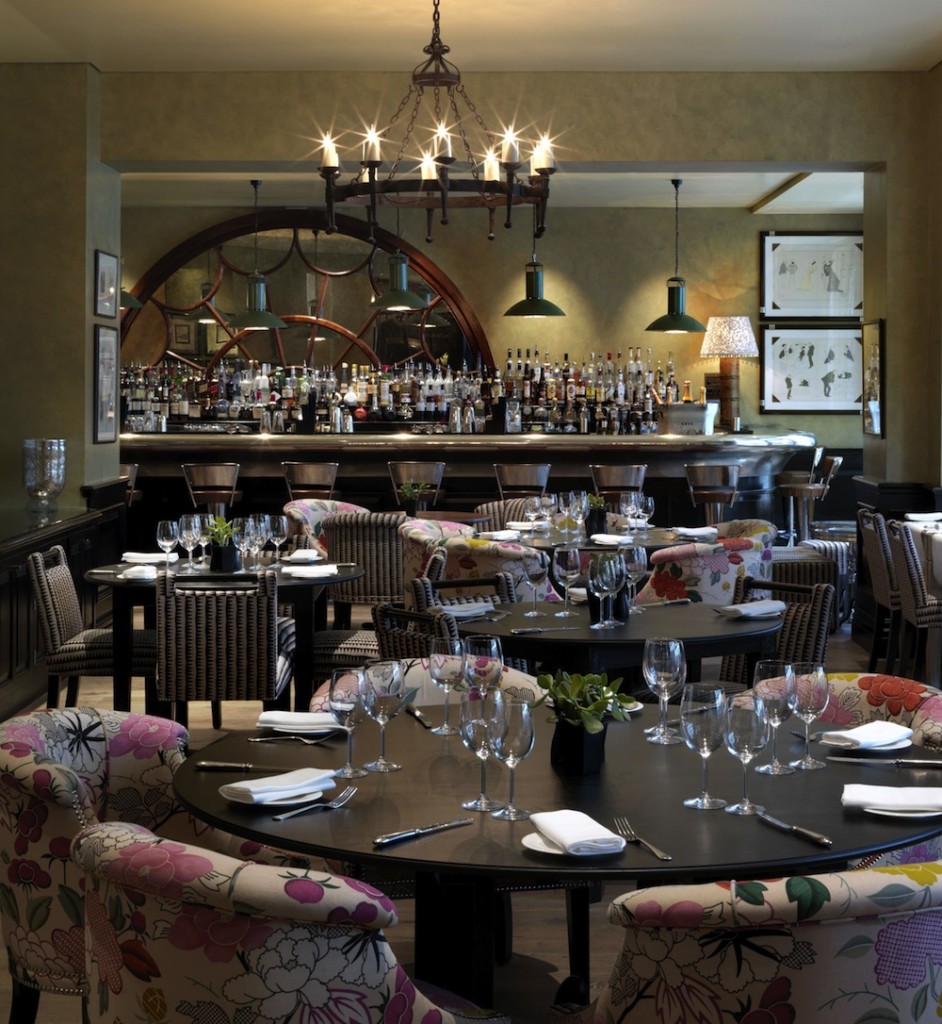 Pre and post theatre menu available Monday to Saturday all day until 12 midnight, Sunday until 23.00 – two courses £23.50, three courses £25.00.
Brasserie Zédel
Brasserie Zedel offers traditional French food at remarkable value. With several set menus available it is a great place to start or end your soiree at the theatre.
The elegant Beaux Arts/Art Deco interior is decidedly Parisian, accompanying typically French dishes such as Beef Bourguignon, Tarte au Citron and Foie de Veau. The à la carte and set menus are available until midnight.
Pre and post theatre menus available Monday to Sunday all day until 12 midnight – two courses £8.95, three courses starting at £11.75.
Joe Allen
Holding court in Theatreland for several decades Joe Allen is a lovely place to dine before or after a show. On the menu there is a choice of American classics, and the atmosphere is relaxed and informal, but very cosy!
Pre and post theatre dining Sunday to Thursday until 12 midnight, Friday and Saturday until 01.00 – two courses £16, three courses £19.50.
The Ivy
A true London classic, The Ivy is an excellent choice for dining in theatreland – the daily late opening hours make it an ideal choice for post theatre.
Special menus are available from Tuesday to Thursday (and all day Sunday and Monday) until 18:15 and after 22.00 – two courses £21.75, three courses £26.25.
The Ivy also provides valet parking for guests who book to eat after the theatre.
Les Deux Salons
The third restaurant from Michelin-starred duo Anthony Demetre and Will Smith serves hearty French cuisine in a space designed with dark green leather banquettes, mosaic marble flooring, aged mirrors and globe lights.
Pre and post theatre menus available Monday to Saturday all day until 23.00, Sunday until 18.00 – two course menu starting at £9.95.
Le Caprice
Another London institution that caters to the theatres around Haymarket is Le Caprice. The timeless black and white interior, iconic photographs by David Bailey and evening pianist combine to create a welcoming yet rather romantic restaurant atmosphere.
Pre and post theatre menus available all week from 17.30 to 19.00 and after 22.15 – two courses £19.75, three courses £24.25.
Quo Vadis
Located on Dean Street in Soho, Quo Vadis is an ideal spot for a pre or post theatre meal. The menu changes daily in keeping with seasonal tastes and flavours with a Theatre Set menu available all evening.
Quo Vadis is a restaurant where the real meaning of hospitality shines through.
Pre and post theatre menus available Monday to Saturday 17.30 to 23.00 – two courses £17.50, three courses £20.00.
Encant
Encant offers innovative modern Spanish food from chef-patron, Victor Garvey.
The restaurant is open seven days a week from midday until 11.30pm and offers a set lunch, pre- and post-theatre menus.
The set lunch menu is available for £24 per person until 3pm and comprises seven dishes for two or more to share plus a glass of cava, coffee or digestif. From 4pm until 6pm and 10pm until 11.30pm a pre- and post-theatre option is available for £31 per person.
To plan your next trip to the theatre and book you pre or post theatre dining experience, contact us now. Read some of our other 'best of' guides such as our afternoon tea guide to London, the best spas in London or where to visit for excellent cocktails.
*The information here was accurate when this post was written in 2013. Please check the information with each restaurant.