Foxlow Soho

Restaurateurs Will Beckett and Huw Gott (of Hawksmoor fame) will open a new branch of Foxlow in Soho this month.
Foxlow Soho will have 120-covers and serve favourites such as slow-smoked pork ribs, five pepper Brixham squid, fried Castlemead chicken and British steaks.
GBR
GBR is a new all-day British restaurant in St James's at Dukes Hotel.
Headed up by Executive Head Chef Nigel Mendham, the restaurant aims to offer 'the finest traditional and contemporary British dishes in a contemporary space'.
GBR will be open all day every day – from breakfast through lunch to afternoon tea and dinner.
Typical dishes will include a traditional Scotch Egg, British charcuterie with pickled vegetables, and Fish and chips with beer batter and mushy peas.
Duck & Waffle Local
Duck & Waffle Local is a new fast casual restaurant in St James's Market from the team behind Duck & Waffle in The City.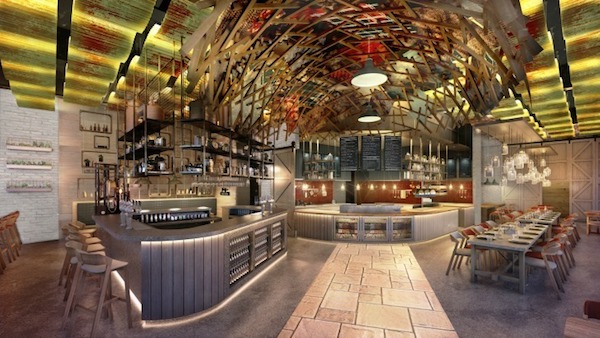 Diners can order at the counter before being shown to a table or opt for a new takeaway service.
Dinings SW3
The team behind Dinings, the Japanese restaurant that originally opened in Marylebone in 2006, is launching its second London restaurant, Dinings SW3 this month.
The new restaurant will take the former Toto's restaurant site, in a mews off Walton Street in Knightsbridge.
Dinings SW3 specialises in an Izakaya-style of cooking, incorporating authentic Japanese and European cuisines with dishes presented as small plates.
Madame D's
The team behind Indian restaurant Gunpowder will open a new restaurant, Madame D's, in Spitalfields this month.
Focusing on Himalayan cooking, Madame D's will draw on the flavours of Indian, Nepalese, Tibetan and Chinese cooking.
The menu will include Gold Coin Dumplings; Pan-fried Tibetan Duck Momo; Garlic Coriander Steamed Chicken; and Prawn on Toast.
Red Rooster Shoreditch at The Curtain
Red Rooster Shoreditch will open its doors at the end of this month at The Curtain, a hotel, restaurant and members' club in Shoreditch.
Acclaimed chef Marcus Samuelsson brings his restaurant and live music venue from Harlem NYC to East London, with the addition of an all-day taqueria and bar on Curtain Road called 'Rooster Taqueria'.
'Story Behind The Curtain' at Restaurant Story
Chefs Tom Sellers and Michael O'Hare will co-host two days of special lunch and dinner menus at Restaurant Story on 25 and 26 May 2017.
The event will be called 'Story Behind The Curtain' and will showcase the individual cooking styles of both chefs with the menus featuring many of their creative signature dishes.
The lunch menu will be £90 per person and £150 per person for dinner (wine pairings available for an additional cost).
Champagne Canapés & Candles at The Kensington
 The Kensington is hosting an exclusive evening with Rachel Vosper on Thursday, 11th May.
Rachel Vosper is a leading British candle chandler and home fragrance expert.  With over 20 years of experience, she specializes in hand-poured candles and signature home fragrances.
The evening at The Kensington will start with champagne and canapés followed by a masterclass with Rachel, where guests will design their own candle using one of Rachel's signature scents. Tickets for the event can be purchased here.
XU
The team behind BAO are opening a new Taiwanese restaurant, XU, on Rupert Street, Soho this month.
The restaurant will pay homage to the rich history and cultural past of Taiwan, serving a cuisine that has been shaped by the many different regional Chinese provinces – Hunan, Fujian and Zhejiang – as well as through Japanese and Dutch colonies.
The venue will feature a cocktail bar, Taiwanese tea bar and private dining space in addition to the 76-cover restaurant.
The Bon Vivant Journal
You may like reading some of our recent guides including the best restaurants in The City, a review of Clerkenwell restaurant Luca or read about the best wine shops in London.