Santo Remedio
Santa Remedio will re-open in a new location near London Bridge this month.
The new 90-cover 'cantina and comedor' is significantly bigger than their original site and is set over two floors.
There will be a taco bar with cocktails, mezcal and tequila downstairs while upstairs will be more of a restaurant, featuring dishes such as fish al pastor, gorditas de chicharron prensado and Chiles Rellenos. 
Opening on 5 September, A limited menu will be available throughout September with bookings at lunch and  walk-ins in the evening.
The upstairs Comedor will open in October when the full menu will be available and bookings will be taken for upstairs only. 
Jacob the Angel
Jacob the Angel is a new English coffee house located in Neal's Yard in Seven Dials, from the founders of the excellent The Palomar and The Barbary.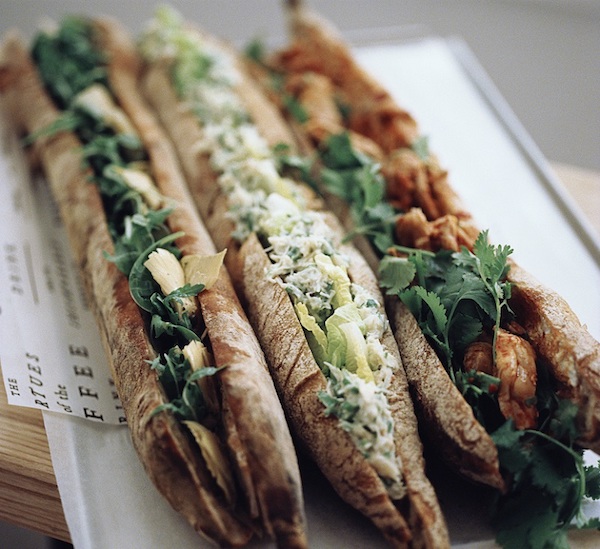 Jacob the Angel's menu will include freshly baked cakes, pastries and pies, sandwiches and seasonal salads.
Ichibuns
Ichibuns is a fast food restaurant serving dishes inspired by the cuisine of Hokkaido, located on Wardour Street in Chinatown. One of the signature dishes is the ICHIBAN burger made using a Wagyu beef blend served in a unique sake yeast bun.
Other favourites include the rich and tasty ramen made using a vegan stock and hand rolled maki.
The three-story restaurant is decorated in a kitsch and eclectic Tokyo rock-and-roll style inspired by both the 50s and 60s Japanese subcultures and the quintessential American diner.
The walls are lined with a variety of Japanese collectible items including Manga comics, old newspapers and Japanese fishing flags.
The restaurant is open seven days a week (walk ins only), 11.30am – midnight and until 2am on Thursday-Saturday. Takeaway is available until 11pm every night. Ichibuns features in our guide to the best restaurants in Soho.
Hoppers St Christopher's Place

Hoppers St Christopher's Place opens this month following the success of its  Soho sister restaurant.
The St. Christopher's Place menu will centre around Hoppers' namesake dish, a bowl-shaped pancake made from fermented rice batter and coconut milk, and the dosa, made from a fermented batter of ground rice and lentils.
Club Gascon Pop-Up

The team behind Club Gascon has launched Cloister by Club Gascon within the candlelit cloisters of  St. Bartholomew-the-Great.
Open from 13th September – 6th October, the pop-up restaurant will offer guests an exciting four-course menu featuring Club Gascon favourites with optional wine or tea pairings.
Club Gascon restaurant is due to reopen in mid October following a refurbishment.
Serge et le Phoque
Restaurateur and chef Frédéric Peneau and designer Charles Pelletier will open Serge et le Phoque at the new Mandrake Hotel in Fitzrovia.
The 58-cover restaurant will open for breakfast, lunch and dinner and brunch on the weekends and will also include a 16-cover private dining room and three bars.
Serge et le Phoque will use British ingredients to offer a modern European menu.
Gul and Sepoy
Harneet and Devina Baweja with executive chef Nirmal Save will open their third restaurant, Gul and Sepoy, within walking distance of their two existing sites, Gunpowder (Indian) and Madame D's (Himalayan).
Gul and Sepoy will draw on influences from the north Indian states of Punjab and Rajasthan to Maharashtra and Kerala on the south west Indian coastline.

Southam Street
Chris Denney and Luca Lombardi opened their first restaurant 108 Garage at the start of this year.
Their new site is an old Victorian pub, set over three floors. Downstairs the menu will offer grilled and smoked fish, meat and veg.
Upstairs on the first floor, there will be a raw bar with a Nikkei menu and on the second floor, there will be a champagne bar and a private members' club.
Ella Canta
Ella Canta is a new Mexican restaurant coming to Mayfair by renowned chef, Martha Ortiz.
With Ella Canta, Martha promises 'to deliver the beauty, vibrancy and spirit of modern Mexico' with a menu that takes inspiration from Martha's restaurant, Dulce Patria, in Mexico City.
Waka
Waka is a new Nikkei restaurant serving a range of dishes in the £4-£7 price range.
Opening on Eastcheap in the City, Waka's full menu is available to grab-and-go or to be enjoyed in Waka's 60-seat basement dining room.
Dishes include ceviches (including seabass and prawn), tiraditos and a wide variety of sushi, sashimi, nigiri and dumplings in sets.
Terrence Higgins Trust's The Supper Club

Terrence Higgins Trust's annual Supper Club returns to London on 14 November.
Invite between 5 and 20 friends to be your guests for the evening and you will be matched with one of the best restaurants in London for a charity dinner. Previous years have included Café Murano, Ottolenghi and Marcus.
Following dinner, you and your guests will be whisked away to an exclusive after-party at Café de Paris.
Tickets are £175 each and include dinner and entry to the after-party with an open bar and entertainment. The only additional costs are any drinks consumed at dinner.
As the restaurants have donated the food, the money you pay goes directly to support the HIV prevention and care work of Terrence Higgins Trust.
For further details email helen.duguid@tht.org.uk or call 020 7812 1667.
The Bon Vivant Journal
You may like reading some of our recent guides including The Ned in The City, a review of Clerkenwell restaurant Luca or Jean-Georges at The Connaught.
Sign up to the Journal here.