A new pasta restaurant for Stevie Parle from the Dock Kitchen, Villa Mama's comes to Chelsea from Bahrain, Rochelle Canteen goes West to the ICA and Vinoteca opens its largest restaurant yet in The City.
Read our guide to the restaurants opening in London this October.
Pastaio
Pastaio is a new pasta restaurant on Ganton Street in Soho from restaurateur Stevie Parle.
Pastaio will combine striking interiors, art, and eclectic music with comforting plates of fresh, handmade pasta and a drinks list that includes prosecco 'slushies'. Seating will be at communal tables and for walk-ins only.
Villa Mama's
Bahraini chef and restaurateur Roaya Saleh has brought Villa Mama's from Bahrain to Elystan Street in Chelsea.
Drawing on Roaya's rich Bahraini heritage, Villa Mama's seasonal, home-style dishes combine flavours and culinary traditions from across the Khaleej, Persia and beyond.
Rochelle Canteen
Margot Henderson and Melanie Arnold will open a sister café, bar and restaurant to Rochelle Canteen in the Institute of Contemporary Arts.
Margot and Head Chef Ben Coombs have written a menu including Braised Cuttlefish & Fennel, Quail Escabeche, Pheasant & Trotter Pie, an Old Spot Chop with Chard & Lentils and a feast of whole Pig's head to share.
Enoteca Rosso
Enoteca Rosso aims to 'showcase the diversity of Italian regional wines and seasonal food' when it opens this month. The menu will feature a large selection of freshly made pasta and gnocchi plus little known charcuterie and cheese.
A mix of communal and private tables, a large open bar and counter seating overlooking Kensington High Street will create a relaxed atmosphere. The restaurant will also have a private dining room for up to 10 guests
Aqua Kyoto
To celebrate the arrival of Autumn a new 'London Japan menu' has launched at Aqua Kyoto.
New dishes include oshizushi of salmon with avocado, tozazu and momiji, a Japanese maple leaf which can be found in Holland Park.
The menu is available for lunch Monday to Friday 12pm – 2:30pm and for dinner Monday to Thursday 5:30pm – 10:30pm and Friday and Saturday 5:30pm – 7:00pm.
Yamagoya
Yamagoya, which specialises in traditional Japanese ramen, will open its first permanent site in London on The Cut.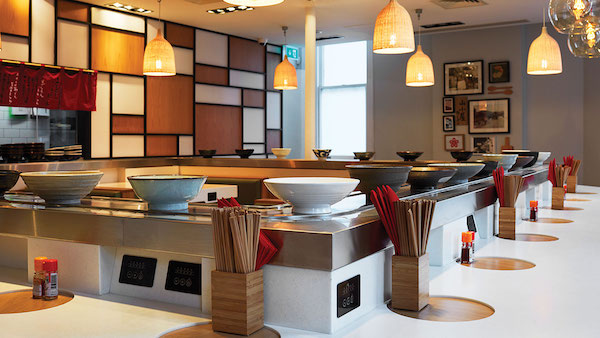 The signature ramen menu will include the 'Yamagoya', handmade noodles immersed in a smoky tonkotsu broth, garnished with Japanese Chashu pork belly, marinated bamboo shoot, Kikurake mushroom, nori and marinated Burford Brown egg.
Inigo
Inigo, a new sushi hand roll grab and go kiosk, will open on Great Windmill Street in Soho, on Wednesday 11th October.
The kiosk will also offer breakfast, salads and daily soup specials.
XU
XU, the new Taiwanese restaurant from the trio behind BAO, is opening two private dining and Mahjong games rooms that will be available to hire for dining, drinking and playing Mahjong.
Hidden at the back of the ground floor behind heavy velvet curtains, diners will discover two Mahjong games rooms each available to hire for a minimum of four people.
Vinoteca City
Vinoteca is opening a restaurant in The City this month with its largest bar, restaurant and wine shop to date.
Located in the Bloomberg Arcade, Vinoteca City will have a central bar and open-plan kitchen, along with a private mezzanine dining area and an alfresco, all-weather patio.
The Bon Vivant Journal
You may like reading some of our recent guides including The Ned in The City, a review of Clerkenwell restaurant Luca or Jean-Georges at The Connaught.
Sign up to the Journal here.